I just added some pics (screenshots), animated gifs and graphics of dear Rain. Check the tags and you'll find your way to see them.
By now you'll find a few Avatars, Screenshots taken from photosession and animated gifs of this same photosession and from episode 1 and 2 of Full House.
Here are some previews of what you'll see there: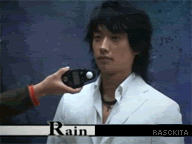 Saludos!
Labels: Update